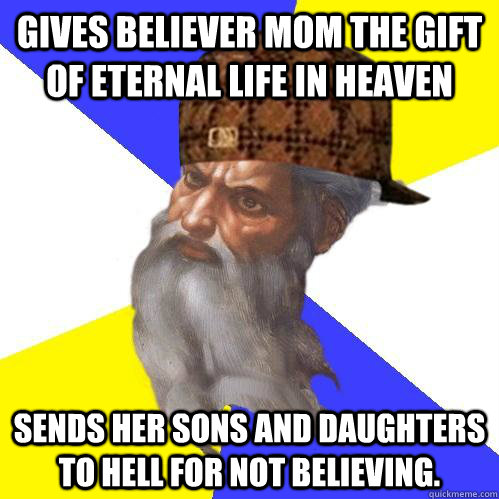 I was having a conversation with some fellow non-believers on the futility of attempting to talk about atheism with older folks. It was a nice conversation and it was good to see that others felt the same way that I do about discussing such things with devout believers that are getting up in age.
However, it reminded me of one of the elements of the Christian religious doctrine that I abhor the most. And that is that while I am happy to know that my mom gets comfort from the idea that she will live forever in heaven with her creator I simultaneously have to cringe at the thought that she suffers from the angst and fear associated with thinking that her beloved son will burn in hell for eternity because he does not accept Jesus Christ as his lord and savior (never mind that fact that he doesn't believe in any sort of supernatural phenomenon like a god nor does he believe in any sort of afterlife).
Fortunately, I take solace in the hope that she, along with more more moderate believers, doesn't really put much stock in the whole heaven and hell mythology. I know for a fact that she allows her particular religious doctrine to guide her voting decisions and moral compass, which is one of the most dangerous elements of religious indoctrination, but I hold out hope that she and others like her have figured out a way to rationalize how and why their ticket to heaven for believing doesn't necessarily ensure a one-way ticket to hell for their non-believing loved ones.
After all, how fun can afterlife bliss be if you're aware that the people you love most are roasting with Beelzebub?
Would love your thoughts on this, Gabe.
GB:
Hey Hugo, well, I think there are 2 main things to consider. The first being while I agree with you that the whole "there may not actually be a man in the sky" conversation can be even more difficult for older people set in there ways, it's not much less difficult for younger people either. It's a belief that is so deeply engrained into people's minds, that it is unthinkable. A perfect example is that I watched the Ricky Gervais movie The Invention of Lying (which you MUST see) with some friends over the weekend. One said he didn't really believe Ricky Gervais was an atheist in his (RG's) heart of hearts. The rest sort of didn't have much to say or take away from the movie because I think it conflicted with their childhood values of religion.

Youtube doesn't allow the video to be displayed with the embed, but click the link to the Invention of Lying scene, where Ricky Gervais talks about the "Man in the Sky." after the video ends, and you'll be able to see it on Youtube.

As for point 2, I tend to lean toward existentialism in terms of a base philosophical belief, which just basically means that I think most Christians have a working version of Christianity. So, while they read and understand that the Bible says their non-believing kids are going to hell, they themselves have created their own meaning/version where they still get a "mansion in heaven." I have a hard time believing the masses follow the Bible to a "T." I think most go to church a few times a year, celebrate holidays, teach their kids the basic ideas, but that's about it. It seems more cultural than anything else. And even more than that, just a pleasant way of thinking about the scary, unknown part of what comes after life ends.
Thanks for sharing that fascinating anecdote about your friends (and that hilarious clip!). You're definitely correct in that it's tough for younger folks as well. However, in my experience, younger folks have an easier time shedding those beliefs since they have not invested many decades both believing in these things and exposing those beliefs publicly to others.
As for the idea of a "cultural" theist, I have no doubt that such people exist, and thankfully, they represent the majority of theists. However, as you also well know, the fundamentalist minority can do some serious damage both to individuals and to society as a whole.